Get Rid of Ticks on Your Property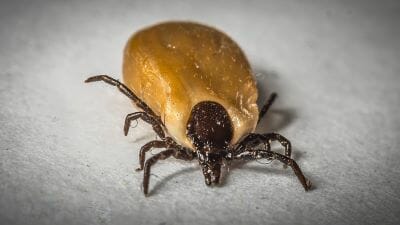 Ticks are a pet owner's worst nightmare, but they pose serious health risks to humans they bite as well as dogs and cats. Unfortunately, the Bay Area provides the perfect climate for ticks to stay active all year-round, making them difficult—or impossible—for the average homeowner to keep out of their yard working alone.
Don't leave your home at risk: if you're concerned about ticks in your yard, contact the pest removal specialists at Smith's Pest Management immediately for help: (408) 871-6988
Smith's Pest Management Tick Control Process
Tick management from Smith's Pest Control follows a proven three-step procedure designed to destroy any ticks currently present in your yard while also helping protect you from further infestations in the future.
First we'll identify the source of your infestation, then we'll use a mix of liquids, sprays, dusts, and more to treat it, ensuring no fleas or ticks escape. We'll then work with you to help you minimize the risk that ticks or fleas get inside again.
When you contact Smith's Pest Management for tick treatment, we'll send one of our trained and certified pest control technicians to your property to perform a thorough inspection for any signs of tick activity.
We'll work with you to determine where ticks might be coming from and what might be attracting them.
During this inspection, one of our technicians will sample areas around the home and the property for harborage as well as the presence of other living organisms that could be serving as hosts for ticks (and other parasites). Not every site will require an inspection, but the greater the infestation, the higher likelihood that an in-person inspection will be necessary to treat the problem effectively and completely.
Once we've determined the size and severity of your tick problem, one of our technicians will perform a thorough treatment of the property using a variety of methods in order to ensure that any tick presence has been eliminated.
These treatments may include the use of liquid residual products, backpack sprayers, power sprayers, and more applying an appropriate mix of products including liquid residual products, granular products, dusts, and aerosols. Your technician will have all the tools at their disposal to treat your tick problem no matter where it's coming from or how severe it's gotten.
For ticks, treatment is primarily focused on the exterior of your home. We power spray the yard before applying the primary treatment, a granular insecticide that eliminates ticks that come into contact with it. We also offer 25B options for tick control.
The team at Smith's Pest Management takes great pride in helping create a safer environment for home and pet owners in the Bay Area. In addition to the direct treatment services we provide, we also help strategize with people we serve to help them create yards that are as comfortable as possible for them but inhospitable to ticks and the wildlife ticks ride in on.
Eliminate Ticks From Your Bay Area Property Today
Ticks are always in season around the San Francisco Bay Area, so Smith's Pest Management is here all year-round with safe and effective tick treatments.
Fleas and ticks are year-round pests around the Bay, which is why we offer flea and tick services year round to combat them. The technicians at Smith's Pest Management know what makes pests tick—contact us today and get rid of whatever is bugging you!
"For years I've raised all the produce in my garden that we eat in our home. One year we started having gopher problems. When I contacted a local pest control company they wanted to use poison which we did not agree with. Smiths offered a non toxic and effective approach to getting rid of my gophers, moles, and rats."