Eliminating Gophers, Ground Squirrels & More For 10+ Years
Monterey, California is home to gorgeous homes, local businesses, and beautiful landscapes. To protect your property from the pests that damage lawns and landscape, turn to the experts at Smith's Pest Management. We protect properties from invasive pests like gophers, moles, squirrels, and rats. To learn more about our comprehensive and non-toxic gopher, mole, squirrel, and rat solutions, give Smith's Pest Management a call today.
Gopher Control Services For Monterey, CA Residents
Don't allow gophers to damage your lawn and other landscaping for one more day. Partner with Smith's Pest Management and your gopher problems will soon be a distant memory. The professionals at Smith's Pest Management know gophers and know how to get rid of them. Our gopher trapping control process includes:
Exposing gopher tunnels.

Placing a stainless steel gopher trap inside.

Re-covering the exposed tunnel and marking it with a small flag.

Returning to remove the gophers from the trap.

If necessary, placing more traps to remove all the gophers from your property.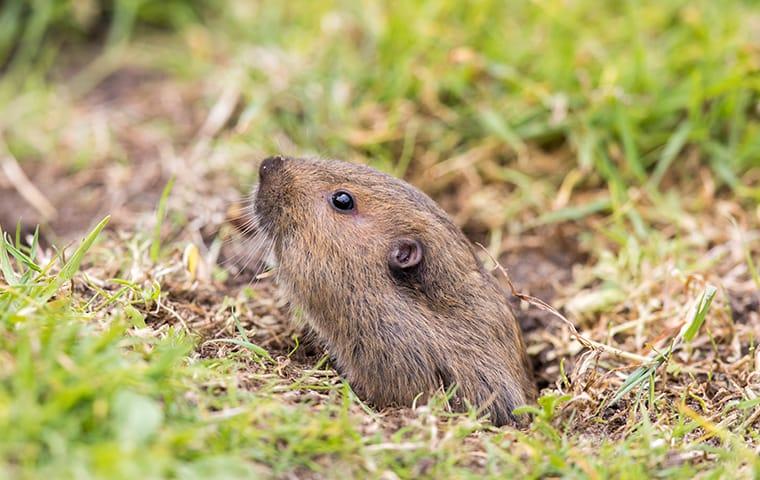 Why You Need Professional Mole Control Services In Monterey, CA
You need professional services to take care of your mole infestation for several reasons, these reasons include:
Moles are attracted to healthy, lush, green lawns, making them difficult to prevent.

Moles live their entire lives underground in the soil.

The tunnels moles create in the soil damage plant and grassroots, making the plants turn brown.

The dirt paths and mole mounds they create are unsightly, can create tripping hazards, and make it difficult to mow your lawn.
To protect your lawn from being continuously damaged by these destructive pests, Smith's Pest Management offers mole trapping and exclusion services. We use trapping as our main control method. We will strategically place traps, eliminate your current mole infestation, and through our annual mole control program prevent future problems with moles. Additionally, we recommend using gopher baskets and gopher wire to help prevent moles from entering back onto your property. For more information about our mole control services, contact us today.
Damages Ground Squirrels Cause In Monterey, CA
As their name suggests ground squirrels live in holes they create in the ground. These rodents are destructive pests capable of causing a lot of damage in a short period of time. Examples of the type of damage ground squirrels cause are listed below. 
Creating unsightly holes and burrows in the ground. 

The entry holes that ground squirrels create can become quite large, posing a significant trip and fall hazard and making lawn care difficult. 

Ground squirrels cause damage to trees and the exterior of sheds and garages by scraping the dirt and gravel away from them to create their burrows. 

They invade gardens and orchards, feeding on and destroying crops.
If ground squirrels are damaging your Monterey property, contact the professionals at Smith's Pest Management. We provide effective services needed to eliminate ground squirrels from your property and to prevent their return. We offer a variety of elimination methods for property owners to choose from including trapping, fumigation, and baiting. To learn more about our ground squirrel control options, get in touch with us today.
3 Things You Should Know About Rats In Monterey, CA
Rats are a common problem for homeowners throughout Monterey. They are damaging, destructive, and dangerous pests that should be kept off your property and out of your home. Three things you need to know about rats are listed below.
1. Rats like to live near people to take advantage of the food and shelter sources we provide for them.
2. Rats only need a space about the diameter of a quarter to enter into a home.
3. Rats are prolific breeders, an infestation of just a few rats on your property can quickly turn into a large infestation.
To eliminate rats from your property, it is important to partner with a professional. Smith's Pest Management gets rid of rats through a three-step rodent control process which includes a phone consultation or onsite inspection, the development of a customized rodent management plan, and putting your rodent management plan into action. Contact us today to learn more about protecting your home and property from rats.
The gophers killed my fruit trees, and upended my garden and it became impossible to keep up with them. So I contacted Smith and they took care of them for me.