For years, gopher wire has been touted as the best way to get rid of gophers without killing them.
But is gopher wire really that effective?
Here at Smith's Pest Management, we provide comprehensive gopher removal services for customers throughout the San Francisco Bay Area, so we're familiar with the methods and techniques used to control gopher populations.
In this blog, we'll look at the real efficacy of gopher wire and compare it to other available methods, like a gopher trapping program.
Let's dive in.
What is Gopher Wire?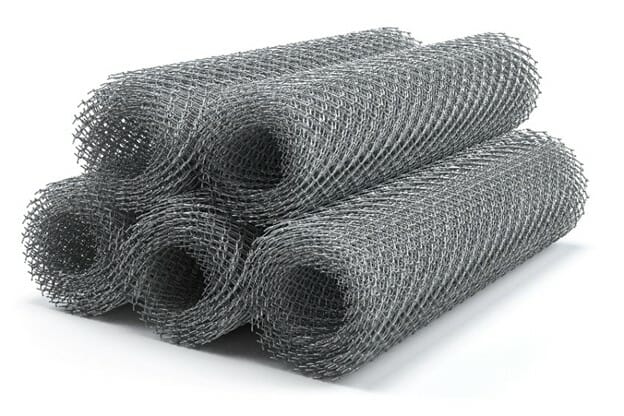 Gopher wire is a sheet of heavy-duty, galvanized steel mesh that resists corrosion and rust.
Made from 20-gauge wire, most gopher wire features a hexagonal pattern of ¾" holes that allow moisture and soil nutrients to move through the mesh.
Much like chicken wire or landscape fabric, gopher wire comes in rolls. It is available in many different roll widths and standard roll lengths of 100'.
How Does Gopher Wire Work?
Gopher wire is designed to be placed in long, overlapping strips beneath a lawn or other planting area. When installed correctly, it creates a barrier that gophers can't tunnel through.
While gopher wire does not kill or harm gophers, the makers claim that it does prevent them from accessing a lawn or garden.
You can also purchase gopher wire baskets, which are baskets made from durable metal mesh.
Ideally, these baskets encase the roots of a tree or plant and protect them from gopher intrusion.
How to Install Gopher Wire
Wondering how to install gopher wire? Here's a quick guide:
Installing gopher wire beneath raised beds
Add gopher wire to the bottom of wooden raised beds by following these tips:
Start by flipping the empty bed upside-down onto the ground.
Choose a roll of gopher wire that's as wide as your raised bed.
Starting at the end of the gopher wire roll, use a staple gun to staple the end of the gopher wire to the frame of the bed.
Roll the gopher wire to the end of the raised bed and secure it with staples.
Cut off the excess wire with wire shears.
Use a staple gun to secure the sides of the gopher wire to the raised bed. If needed, tap in all staples with a hammer.
Flip the bed back over and fill it with soil.
Installing gopher wire under a lawn or garden
Follow these steps to install gopher wire under a larger area, such as a lawn or garden:
Remove 1-1.5" of topsoil from the area you want to cover. Renting a machine to do this is the best option for large areas.
Next, use a rake to level the area.
Lay down the gopher wire using wooden stakes or landscaping staples to secure the ends of the wire. Make sure to overlap all seams by 2-4".
Bend the wire up at a 90-degree angle when you reach the end of the lawn or garden. This provides an extra layer of protection and makes it difficult for gophers to permeate the edges of the wire.
Place topsoil on the gopher wire. When you reach the edges of the wire, the wire should extend above the topsoil by at least 2-3".
Top the bare earth with sod or garden plantings. If you're placing the gopher wire beneath grass, add a 1-2" dirt layer on top of the mesh below the sod or seed area.
Note: It's virtually impossible to install gopher wire in an existing landscape. Because installing wire requires you to dig up your grass, garden, or landscape, these options are only suitable for new construction. 
Is Gopher Wire Effective?
Here are a few things you should know:
1. Gophers can get around gopher wire
Gophers are crafty little rodents and most can still tunnel above or below gopher wire. When they do, they'll damage your landscaping and eat the roots of your plants and trees.
2. Gopher wire doesn't last forever
While gopher wire is meant to be corrosion-resistant, some varieties rust away in as little as 3-7 years.
3. Gopher wire can constrict the growth of plants and trees
As plants and trees grow, they send roots out and down into the ground.
When gopher wire is present, though, it constricts the growth of those roots, ultimately choking the roots and killing the plant.
4. Gophers can get down into gopher baskets
Gopher baskets sit beneath the soil's surface and prevent gophers from tunneling in from below.
Unfortunately, gophers travel above-ground at night. This means they can easily tunnel down into the gopher basket from above and start eating the roots of your plants.
Moles, voles, and other pests are also very good at getting around these barriers. That's especially true for younger rodents who are small enough to squeeze through the ¾" mesh holes.
As you can see, gopher wire can be one solution to a gopher problem, but it won't get rid of gophers on its own.
As long as gophers exist on your property, they'll find a way to get around any exclusion method you put in place.
Because of that, we recommend exploring alternatives to gopher wire.
More on that in the next section.
Are These Two Gopher Wire Alternatives Any Better?
If gopher wire isn't a perfect system, what are the alternatives? Here are a few of the most popular:
1. Chicken Wire
Many homeowners wonder if they can use chicken wire as a less expensive alternative to gopher wire.
Unfortunately, the answer is no. 
While chicken wire is cheaper than gopher wire upfront, it's also far less durable. After all – it's made to contain chickens, not exclude gophers.
Gopher wire is made of hot-dipped galvanized metal or stainless steel, while chicken wire is made of thin, flexible steel wire.
As such, most chicken wire varieties will degrade just 1-2 years after you put them in the ground.
Pros: Affordable
Cons: Not as long-lasting or durable as gopher wire
2. Hardware Cloth
Hardware cloth is another common alternative to gopher wire. Hardware cloth is a wire mesh made of woven or welded wires in a grid pattern.
Like chicken wire, it's cheaper than gopher wire.
Unfortunately, it's also far less durable than gopher wire!
In some cases, the holes of hardware cloth are also too large to prevent gophers from burrowing right through the wire.
Hardware cloth also isn't as stiff and heavy as gopher wire. Its flexibility may cause it to poke through grass or landscaping materials and become a hazard in your lawn or garden.
Pros: Affordable, available in different varieties (like epoxy-coated or galvanized)
Cons: Not as durable or long-lasting as gopher wire
The Very Best Alternative: A Gopher Trapping Program
By far, the best alternative to gopher wire is an ongoing gopher trapping program.
In a gopher trapping program, you contract a professional pest control company like Smith's Pest Management to provide ongoing gopher trapping and removal services for your property.
Ultimately, this is the only truly effective way to get rid of gophers.
Most trapping programs are cheaper than gopher wire (even over many years) and more effective.
Additionally, it's easy to utilize gopher trapping in an established landscape (we can't say the same for installing gopher wire).
Finally, trapping and removal are long-term gopher control solutions. While gopher wire only provides a temporary barrier, trapping removes all the gophers on your property – for good.
Pros: Long-lasting, effective, safe for kids, pets, and non-target species
Cons: Teams may have to cut existing gopher wire to install traps, initially a more expensive option, but will pay for itself quickly.
Get California Pocket Gophers Under Control with Smith's Gopher Trapping Program!
If you're looking for an effective way to get rid of the gophers on your property, gopher wire isn't the best option as it doesn't prevent gophers from burrowing above or around the barrier.
Additionally, if there are any gophers already present on your property, they'll quickly find a way to get through, around, or above the gopher wire you've so painstakingly installed.
Here at Smith's Pest Management, we remove gophers daily on properties that already have gopher wire installed, so we know this to be true.
When you sign up for our gopher trapping program in the San Francisco and Central Coast areas, you'll get safe, effective, long-lasting gopher control that removes existing gopher populations and prevents new infestations from occurring.
Stop wasting your time with frustrating and ineffective exclusion methods – contact our professional pest management team to sign up for our gopher trapping program now.