A 5-Step Do-It-Yourself Process
For all you DIY-enthusiasts, what follows is a five-step process to gopher trapping and removing moles or other rodents from your property: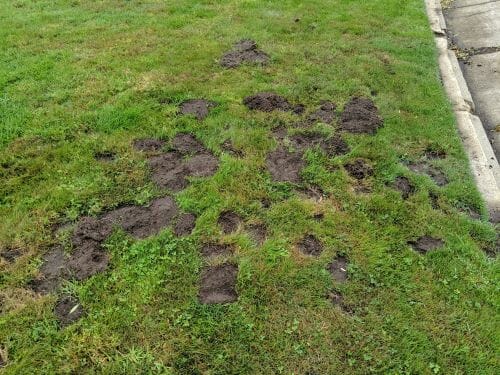 We are going to teach you how to make a homemade gopher trap.
We call this Trapping 101.
That's because catching a gopher or mole is not difficult — if you have lots of time and can afford to lose a few plants along the way.
A word of caution, however: Gophers are smart critters. And without realizing it, your efforts to trap them can actually train them to outsmart you.
There's more on that, below.
But first, the five steps on how to catch a gopher with a homemade trap:
Step One: Locate the tunnel. Take a probe (a long screw driver will do),and insert it in the ground around a gopher mound until you feel the tunnel.
Step Two: Open the tunnel. Using a small spade or trowel, open the burrow, being careful not to let loose soil fall down the hole. Excavate all of the loose soil you can as far as you can reach in each direction in the gopher's tunnel.
Step Three: Set the traps. Set a gopher trap in each direction in the tunnel, following the manufacturer's directions. We like the Gophinator Trap by Trapline Products. Your local garden center will also carry McAbee or Victor traps, which are effective if set carefully.
Step Four: Mark your traps. Stake down the traps with a spike or a marking flag so they stay put and are easy to find later, and then close the hole carefully.
Step Five: Check the traps the next day and remove the dead animals.
Smart Gopher Alert!
When a gopher escapes a trap, or detects one before the trap is even set off, it gains experience in trap evasion and becomes much harder to catch on the next set.
What's more, if a gopher detects a trap, it will pack the trap full of dirt and re-route its tunnel. The more a gopher survives encounters with traps, the more it becomes "trap shy."
(Like we said, smart.)
If your aim is to catch gophers and remove them from your property using this DIY approach, we recommend that you let a trap-shy gopher rest for a week or more before trying to catch it again.
We're Here to Help
If you've exhausted every DIY approach to getting rid of gophers and still find the critters have outwitted you and continue to make their home on your property, take heart. Effective trapping takes skill and know-how, and most people eventually turn the job over to a professional to trap gophers and other pests.
As our clients throughout Northern California have discovered, we're not your average gopher-trapping service provider. Here are just a few reasons why:
Licensed: Our extensive list of licenses includes a State Trapper's License, Qualified Pesticide Applicator's License, and a State Pest Control Business License.
Poison-free: We get rid of gophers and moles without using any poisons, ever.
Highly effective: We eliminate the toughest ground squirrel problems using both conventional and nontoxic methods.
Locally owned: Our team of gopher service specialists are always nearby and can respond to your needs quickly — often in as little as 24 hours or less.
We offer a satisfaction guarantee for the services we provide you. Our professional customer service and friendly staff will make sure you have an amazing experience when we come to your location to trap and remove the gophers that have been damaging your property. If you are in anyway unhappy with our service, let us know and we will do our best to make everything right in the end.
To schedule critter removal of any kind from your property, contact us today.
"For years I've raised all the produce in my garden that we eat in our home. One year we started having gopher problems. When I contacted a local pest control company they wanted to use poison which we did not agree with. Smiths offered a non toxic and effective approach to getting rid of my gophers, moles, and rats."