At less than 10 inches in length, a pocket gopher isn't much to look at. But that little animal can have a big impact on your property. Pocket gophers can damage your lawn, eat the vegetables in your garden, damage the roots of your trees and flowers, eat the plants in your landscaping, and leave large, ugly mounds of dirt everywhere.
This can lead to expensive lawn care and landscaping bills. Sadly, this isn't where the threat ends. If they create holes in large fields where kids play, it can lead to an injury. If they tunnel underneath a foundation, they can cause cracks to form. They spread ticks, fleas and other parasites. They can spread diseases. The list of problems pocket gophers can cause is quite long.
That's why every Greater Bay Area property owner should know about proper gopher control.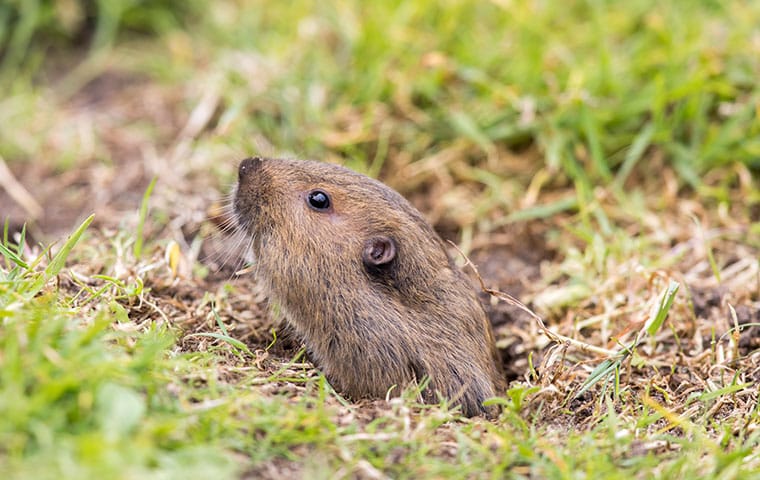 DIY Gopher Prevention
There is really no way to keep gophers out of your yard, but there are a few ways you can prevent gophers from damaging the plants on your property. If you're able to put flowers and other plants in raised plant boxes, that can keep gophers from getting a meal. If you're able to put fencing around your garden or sensitive landscape vegetation, you may be able to keep gophers out if you install it at least two and a half feet under the ground to prevent gophers from tunneling under. But these and other preventative measures usually fall short because they are impractical. You want your landscaping and plants to be arranged the way you want them to be. You may want them to be planted in the soil around your perimeter and you may not want fencing around them. This is why many homeowners turn to Smith's Pest Management. We take care of gopher problems effectively and we help homeowners in our San Francisco Bay area learn how to detect these destructive and frustrating pests before they can cost them an arm and a leg.
Why a Trapping Service?
Property owners often turn to general pest control companies for control of gopher pests and end up getting less than ideal results. We hear it all the time from new customers. This is because general pest control requires a different set of skills. A general pest control technician sees your yard as an ecosystem that needs to be controlled and they use pest control products to do it, products like poisoned baits. These just don't work well with pocket gophers.
At Smith's Pest Management, we specialize in the control of pocket gophers and we have developed methods that work to effectively control these and other ground-dwelling pests.
We start by discussing gopher control options and our pricing structure with you over the phone, so you know what you can expect when your trapper arrives.
Next, your property will be inspected by a trained and experienced trapper. The holes and damage on your property will be cataloged and assessed.
A small portion of tunnel holes will be exposed and traps will be placed inside. These traps will be protected by a cover and clearly marked.
A few days later, your trapper will check the traps and remove any gophers that are caught.
The trapper will return 3 to 5 times to make sure all gophers are removed from your property.
If requested, ongoing inspections and trapping services will be set in place to continue to protect you and your family and your property.
Sensitive Situations
We know that trapping is not an ideal solution for some people or some situations. For this reason, we also use carbon monoxide for gopher removal. Carbon monoxide is heavier than air and it sinks down into deep tunnels and puts all the gophers into a deep sleep that they do not wake up from.
Gopher Insurance
Whether it's plants, patios, pavers, or decks, gophers, moles, voles, ground squirrels and all their friends can QUICKLY have you calling your landscaping pro's to re-do it all over…typically this comes out to 25% of the original cost. That's where our Monthly Maintenance program provides 2 visits/month and we guarantee success in stopping these critters from destroying your landscaping investment. We take care of it all because they simply don't magically disappear, they're actually just busy having a party under your new pavers or decomposed granite. We preserve your outdoor landscape investment, preventing unwanted expenses from these pests' damage.
Do You Have Questions?
Every property is a little different and you may have specific questions you would like addressed. We're happy to answer them. Reach out to us at any time. We may even be able to give you a quote right over the phone. If not, we are also happy to meet with you to provide an inspection of your property. We want to help you resolve your gopher problem. Get connected with us today.
Kourtney B. -
Los Gatos, CA
My chicken coop was put up five years ago. I went out one night and almost had a heart attack because there was probably 100 rats in with the chickens. I called Smith's and the problem was solved quickly. No more rats!