Protect Your Sunnyvale Lawn and Garden From Destructive Burrowing Pests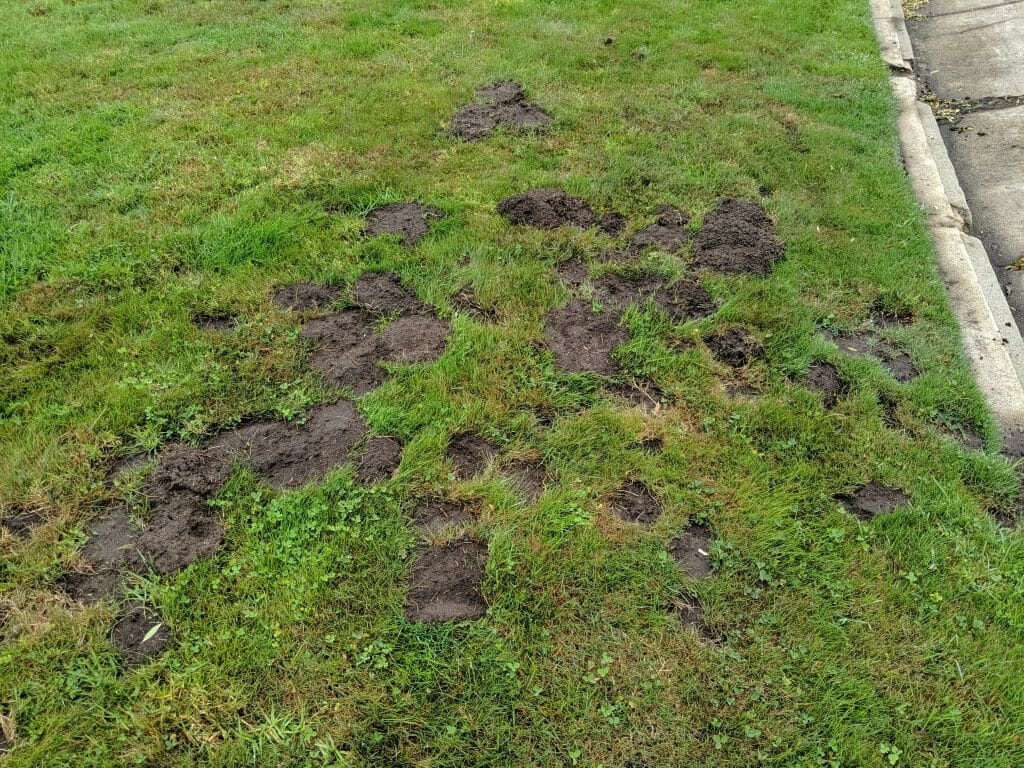 You've worked hard to create a beautiful outdoor space, but you've recently noticed a few troubling things:
Bare patches in your grass
Mounds in your garden
Destroyed landscaping and gnawed plants
Damage to your underground irrigation system and utility lines
While it's not what any homeowner wants to hear, these are all signs that you may be dealing with a ground squirrel, gopher, mole, or vole problem.
Unless you act quickly, burrowing pests multiply rapidly, infest outdoor spaces, and destroy the beautifully landscaped areas you've worked hard to create.
Fortunately, we're here to help.
The team here at Smith's Pest Management specializes in non-toxic, eco-friendly, humane removal services designed to address burrowing pest infestations, including but not limited to ground squirrels, gophers, moles, and voles in Sunnyvale properties, including zip codes 94043, 94085, 94086, 94087, and 94089. We also remove rats, mice, and other rodents for the most comprehensive service possible. 
Gopher, Ground Squirrel, Mole, Vole & Rat Control Services for Sunnyvale, CA
Stop burrowing pests from destroying your property!
Come to us for the following:
Residential Burrowing Pest Control Service
You've invested lots of time, energy, and effort to make your Sunnyvale property a relaxing, beautiful space. Unfortunately, even a small burrowing pest infestation can destroy your outdoor space in days. 
Don't worry, though – you don't have to address the infestation alone. Our team is here to help you eliminate burrowing pests and reclaim your property. 
When you reach out to our pest management team, we'll connect you with one of our experienced pest control technicians, who will help you understand our services, prices, and methods so that you can make informed pest control decisions. 
Once we've discussed your needs, we'll suggest a management plan, visit and inspect your property, and implement the chosen control method. If needed, we'll also return for follow-up treatments. 
Before you know it, you'll be enjoying a pristine, pest-free outdoor space once more. 
Annual Gopher, Mole & Vole Program
Want to control burrowing pests on your property without manually scheduling each appointment?
Take a "set it and forget it" approach to pest management with our annual gopher, mole, and vole control programs.
When you sign up for this program, one of our expert technicians will arrive to service your property every month for an affordable, flat rate. 
Depending on the nature of your pest infestation and current pest control needs, our techs will make exclusion recommendations, set or re-bait traps, provide follow-up treatments, and assess pest damage as needed. 
This convenient program is a great way to save time and money and ensure a beautiful, pest-free yard all year long. 
Rat & Rodent Control
Did you know rats and rodents are some of California's most common, problematic, and damaging pests?
Once these rodents establish an infestation on your property, they breed rapidly, consume all available food sources, destroy your garden, and even introduce diseases that can make your pets and family sick. 
Luckily, the Smith's Pest Management team can help you remove these rodents and prevent re-infestation. 
Contact us today to learn more about our humane and effective rat and rodent control services.
Commercial Burrowing Pest Control
Help your Sunnyvale business put its best foot forward with commercial burrowing pest control services from Smith's Pest Management. 
In addition to our residential offerings, our team provides commercial burrowing pest control services for businesses throughout the Sunnyvale area. 
What sets our team apart is that we use an integrated pest management (IPM) approach. This allows us to approach pest infestations holistically and develop creative, comprehensive solutions to ensure pest-free commercial properties.
Our 3-Step Burrowing Pest Control Process for Sunnyvale Properties
How do we get rid of pests on Sunnyvale properties? Here's the three-step process you can expect our team to follow:
We start with an inspection every time we begin a pest management job. During this inspection, we'll visit your property, evaluate the nature of the infestation and the extent of the pest damage, identify the type of pests present, and develop a customized mitigation plan.
There's no one-size-fits-all rule for pest management. As such, we offer a wide selection of treatment options, including but not limited to habitat modification, humane trapping, baiting, and fumigation.
If you have questions about our pest management methods, contact our team! We're always happy to answer questions about these treatment methods and help you decide which pest management approach is right for you.
Once we've completed our pest management treatment, we'll focus on preventing re-infestation of pests like gophers, moles, ground squirrels, voles, and rats.
To do this, we prioritize exclusion methods like fencing, sealing entry points, and more. If your pest problem persists, we'll also deliver follow-up treatments if needed.
We guarantee our services and are proud to be the company your friends and neighbors choose for humane gopher extermination in the Sunnyvale area.
Why Choose Smith's for Pest Control in Sunnyvale, CA?
We're a local, family-owned company. 
We provide green and eco-friendly services.
Our pest control solutions are creative, comprehensive, and customizable. 
The owner of our company has a horticulture degree from Cal Poly and spent much of his career working as a landscape architect and burrowing pest specialist.
Our service is professional, timely, and prompt.
Our pest control experts are professional, highly trained, and thoroughly vetted.
We prioritize humane, ethical pest removal services that are family- and pet-friendly.
We guarantee our services and your satisfaction.
You can save $50 when you sign up for one of our Pest Maintenance Plans.
Here at Smith's, we believe in the efficacy and importance of humane, nontoxic control methods, so we limit the use of pesticides as much as possible. When you work with us, you can trust us to prioritize the safety of the environment, as well as kids and pets.
We follow all guidelines established by the state of California, including the CA Department of Fish and Wildlife and the CA Department of Pesticide Regulation.
Enjoy a Beautiful, Pest-Free Outdoor Space With the Help of Smith's Pest Management
Kick pests to the curb and reclaim your Sunnyvale, CA, property!
Smith's Pest Management is here to help. 
Serving all of Santa Clara County as well as the San Francisco Bay Area, our expert team is ready to solve your gopher, mole, ground squirrel, vole, or rat problem. 
Fill out the form below or call us for a FREE inspection.
Kourtney B. -
Los Gatos, CA
My chicken coop was put up five years ago. I went out one night and almost had a heart attack because there was probably 100 rats in with the chickens. I called Smith's and the problem was solved quickly. No more rats!