Are burrowing pests destroying your lawn or garden? We can help!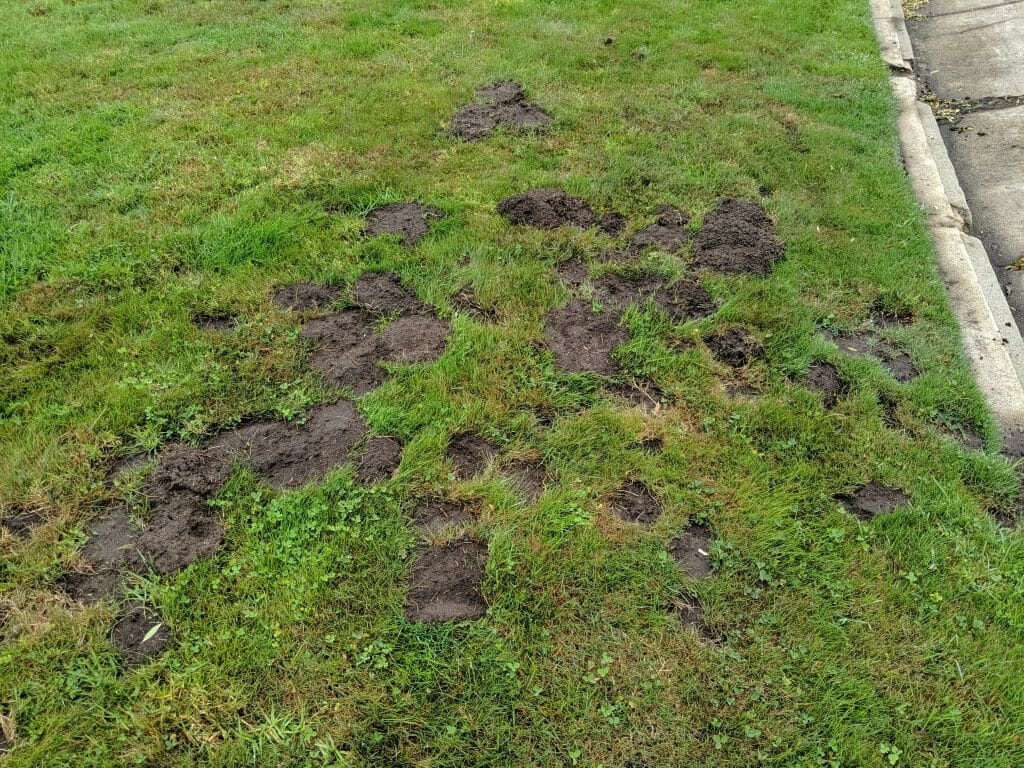 Are you noticing…
Bare patches in your lawn?
Mounds in your garden?
Destroyed landscaping?
Plants that have been gnawed?
Damage to your underground irrigation system?
If so, you may be dealing with a ground squirrel, gopher, mole, or vole problem. Left unchecked, these burrowing pests will multiply rapidly and destroy your outdoor space, ruining your investment and creating an unpleasant environment you don't want to spend time in.
At Smith's Pest Management, we specialize in the non-toxic, eco-friendly removal of burrowing pests like gophers, moles, and voles in San Anselmo properties, including zip codes 94960 and 94979– and we also take care of rats and other rodents.
Our humane tactics focus on removing the animals (instead of killing them) whenever possible and will allow you to reclaim your outdoor space and put an end to rodent destruction.
Ground Squirrel, Gopher, Mole, Vole & Rat Control Services
for San Anselmo, CA
Here at Smith's, we provide various pest removal services tailored to the nature of your specific pest problem, your property, and your needs.
Come to us for the following:
Residential Burrowing Pest Control Service
Burrowing pests can be a significant problem on residential properties and can cause thousands of dollars worth of damage in just a few days. Fortunately, our team offers comprehensive burrowing pest elimination services for homes throughout San Anselmo.
When you reach out to our team, one of our experienced pest control technicians will discuss our services and pricing structure so you know what to expect at every turn. Next, we'll visit your home to implement the pest control plan of choice.
After the initial treatment, we'll provide follow-up treatments, as necessary, to ensure the end of your burrowing pest problem.
Annual Gopher, Mole & Vole Program
Investing in a year-round control program is the best way to control burrowing pests.
For a flat rate, you can have a Smith's technician service your property every month, setting and re-baiting traps as needed, making exclusion recommendations, and more – all to ensure burrowing pests don't damage your garden, lawn, or landscaping.
Rat & Rodent Control
Nobody wants to live with rats or other rodents. Unfortunately, they're common pests throughout California, and San Anselmo, CA is no exception.
Without proper protection, nobody is safe from a rat or rodent infestation. Once they set up shop on your property, rats can destroy your outdoor space and introduce dangerous and infectious diseases that can affect your pets and family.
Fortunately, Smith's is here to help. We provide humane and effective rat and rodent control services designed to reclaim your space and safeguard your health and peace of mind. Contact us today to learn more.
Commercial Burrowing Pest Control
Are burrowing pests destroying your commercial landscaping or creating an eyesore for your customers and clients? We can help.
In addition to providing high-quality residential pest control, our team also offers commercial burrowing pest control. Utilizing an integrated pest management (IPM) approach, we take a holistic view of pest infestations and attack them from every angle.
The result is a beautiful, peaceful outdoor space without the damage or unwelcome presence of burrowing pests.
Our Burrowing Pest Control Process for San Anselmo Properties
You can trust Smith's Pest Management if you've got gophers, ground squirrels, moles, voles, or rats on your property. We guarantee our services and are proud to be the go-to for humane pest extermination in the San Anselmo area.
We follow a proven three-step process to get rid of gophers, moles, voles, and rats. Here's what you can expect from our team:
Our pest control services always begin with an inspection. During the inspection, we'll evaluate your property, identify the source and nature of the pest infestation, assess existing pest damage, and make a mitigation plan.
We offer various treatment options, including humane trapping, habitat modification, fumigation, and baiting. We'll work with you to decide which treatment option is most applicable for your infestation and apply it accordingly.
Once we've deployed our initial pest treatment, we focus on exclusion methods. Exclusion tactics prevent pests from returning and utilize techniques like  fencing, sealing entry points, and more – depending on the burrowing pests we're dealing with.
Why Choose Us for Pest Control in San Anselmo, CA?
We're a local, family-owned company that provides eco-friendly services. We:
Are committed to offering creative and effective solutions. The owner of our company has a horticulture degree from Cal Poly and years of experience as a landscape architect and burrowing pest specialist.
Offer professional, timely, reliable service every time you call.
Tailor our services to your property, pest problem, and needs.
Offer rapid response time for your phone, chat, and email inquiries.
Provide environmentally-friendly, "green" pest control options.
Our specialists are all highly-trained pest control experts.
Provide pest removal services that are family- and pet-friendly.
Offer a customer satisfaction guarantee.
Save $50 when you sign up for one of our Pest Maintenance Plans.
In addition to the above, we believe in humane, nontoxic control methods. We believe in limiting the use of pesticides whenever possible to ensure the safety of the environment, as well as kids and pets. We follow all guidelines established by the state of California, including the CA Department of Fish and Wildlife and the CA Department of Pesticide Regulation.
Reclaim Your Yard & Garden Today with Smith's Pest Management
You don't have to sit around and watch burrowing pests destroy your San Anselmo lawn or garden forever.
Smith's Pest Management is here to help you reclaim your life. Serving all of Marin County and the Bay Area, including San Rafael, Fairfax, and Ross, Tiburon, Belvedere, Larkspur, as well as the greater San Francisco Bay Area and Central Coast, our expert team is ready to solve your ground squirrel, gopher, mole, vole, or rat problem.
Fill out the form below or call us for a FREE inspection.
Kourtney B. -
Los Gatos, CA
My chicken coop was put up five years ago. I went out one night and almost had a heart attack because there was probably 100 rats in with the chickens. I called Smith's and the problem was solved quickly. No more rats!